CAPÍTULOS
FICHA DE CAPÍTULOS VISTA 10.182
Temporada 8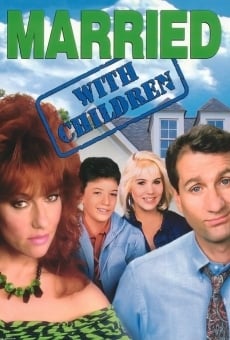 | | |
| --- | --- |
| Tipo | Serie de TV episodios |
| Origen | US |
| Idioma original | Inglés |
| Producida | 1987 |
| Género | Comedia |
| Duración | 45 min cada episodio |
En nuestra guía de series hay disponibles un total de 11 temporadas completas de Married with Children. Pueden existir discrepancias con las temporadas emitidas en televisión (TV Seasons).
Consulta la lista de temporadas y episodios en IMDb para acceder a información actualizada.
Married with Children - 8º Temporada en español
Married with Children Temporada 8 Online - ¿Y vivieron felices para siempre? Ni un poco. Felicidad es algo difícil de definir para los Bundy, una familia caótica de clase baja que vive en Chicago en completa discordia, aunque sin perder la unidad. Te invitamos a ver la ficha de esta serie con más información sobre la producción y los actores.
REPARTO DE LA TEMPORADA 8 Married with Children subtitulada y original
Esta temporada Nº 8 estuvo protagonizada por Ed O'Neill, Katey Sagal, Amanda Bearse, David Faustino, Christina Applegate, Buck, Ted McGinley, David Garrison, Kevin Curran, Lucky, Harold Sylvester, E.E. Bell, Dan Tullis Jr., Tom McCleister, Gita Isak, Frank Lloyd y Edd Hall.
Ed O'Neill TV/Cine
Katey Sagal TV/Cine
Amanda Bearse TV/Cine
David Faustino TV/Cine
Christina Applegate TV/Cine
Buck TV/Cine
Ted McGinley TV/Cine
David Garrison TV/Cine
Kevin Curran TV/Cine
Lucky TV/Cine
Harold Sylvester TV/Cine
E.E. Bell TV/Cine
Dan Tullis Jr. TV/Cine
Tom McCleister TV/Cine
Gita Isak TV/Cine
Frank Lloyd TV/Cine
Edd Hall TV/Cine
Capítulos de Married with Children, Temporada 8 Online
La 8º temporada online de Married with Children (Married with Children) cuenta con 26 capítulos completos originales. Se filmaron múltiples temporadas de Married with Children, te invitamos a disfrutarlos en video calidad Full HD desde tu TV. Generalmente los capítulos que se estrenan en Estados Unidos o en el país de origen de la serie no se emiten online simultáneamente en el resto del mundo, son traducidos o subtitulados al español latino tiempo después.