TÍTULO ORIGINAL
FICHA DE SERIE VISTA 6.517
Capítulos HD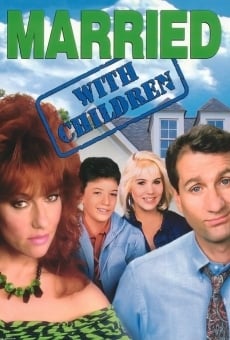 1987 ( US ) · Inglés · Comedia · 45 minutos, capítulos completos de la serie
SINOPSIS - ¿De qué trata esta serie de televisión?
Married with Children Online - ¿Y vivieron felices para siempre? Ni un poco. Felicidad es algo difícil de definir para los Bundy, una familia caótica de clase baja que vive en Chicago en completa discordia, aunque sin perder la unidad. La serie Married with Children fue creada por Ron Leavitt y Michael G. Moye, y su estreno en televisión en idioma original se produjo en el año 1987 (primera temporada). Los capítulos de Married with Children así también como los episodios estreno se emiten gratis por televisión por cable con audio original en inglés, subtitulado y doblado al español (Latinoamérica) en diferentes horarios.
ELENCO Married with Children
Actores/Actrices protagonistas: Ed O'Neill, Katey Sagal, Amanda Bearse, David Faustino, Christina Applegate, Buck, Ted McGinley, David Garrison, Kevin Curran, Lucky, Harold Sylvester, E.E. Bell, Dan Tullis Jr., Tom McCleister, Gita Isak, Frank Lloyd y Edd Hall.
| | |
| --- | --- |
| GÉNERO DE LA SERIE | PAÍS DE ORIGEN DE LA SERIE COMPLETA |
| Comedia en inglés | Estados Unidos |
| | |
| --- | --- |
| TRANSMITE EN TV / ONLINE | DURACIÓN DE LOS CAPÍTULOS COMPLETOS |
| | 45 min cada capítulo completo |
Temporadas y capítulos
GUIÓN
Serie escrita por Ron Leavitt, Michael G. Moye, Larry Jacobson, Ralph Farquhar, Stacie Lipp, Ellen L. Fogle, Kevin Curran y Sandy Sprung.
PRODUCTORES
Michael G. Moye, Ron Leavitt, Katherine Green, John Maxwell Anderson, Barbara Cramer, Richard Gurman, Stacie Lipp, Michael Greenspon y Ellen L. Fogle.
MÚSICA ORIGINAL
Compuesta por Jonathan Wolff.
CINEMATOGRAFÍA / FOTOGRAFÍA
Responsabilidad de Thomas W. Markle.
ESTUDIOS Y PRODUCCIONES ASOCIADAS
Esta serie fue producida / financiada por Embassy Television (1987-1988), ELP Communications (1988-1997) y Columbia Pictures Television (1988-1997).
DISTRIBUIDORAS DE ESTA SERIE en idioma original
Distribuyeron comercialmente esta TV serie empresas como Fox Network y CanWest Global Communications (Canadá).
Capítulos de Married with Children (1987)
Hay 11 temporadas con 263 capítulos completos de "Married with Children" para ver por TCM, acumulando una duración total de la serie completa de 11.835 minutos de video HD (calidad DVD) desde su primera temporada. Ten presente que generalmente los capítulos que se estrenan en Estados Unidos no se emiten on line simultáneamente en el resto del mundo, son traducidos desde el inglés o subtitulados al español latino varias semanas después.
Ficha de la serie de TV en
IMDb
con información adicional.