CAPÍTULOS
FICHA DE CAPÍTULOS VISTA 29.683
Temporada 13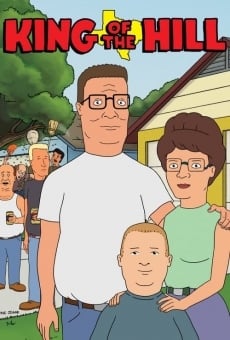 | | |
| --- | --- |
| Tipo | Serie de TV episodios |
| Origen | US |
| Idioma original | Inglés |
| Producida | 1997 |
| Género | Comedia |
| Duración | 30 min cada episodio |
En nuestra guía de series hay disponibles un total de 13 temporadas completas de King of the Hill. Pueden existir discrepancias con las temporadas emitidas en televisión (TV Seasons).
Consulta la lista de temporadas y episodios en IMDb para acceder a información actualizada.
King of the Hill - 13º Temporada en español
King of the Hill Temporada 13 Online - La historia de Hank Hill, su familia y el vecindario en el que vive, el suburbio de Arlen, Texas. Trabajador, devoto a su familia y orgullos de ser de Texas, Hank es un gerente asistente de Strickland Propane. Siempre tiene sentido común y se ve como la voz de la conciencia y la razón en un mundo de vendedores incompetentes, burócratas mediocres y liberales bienintencionados. Te invitamos a ver la ficha de esta serie con más información sobre la producción y los actores.
REPARTO DE LA TEMPORADA 13 King of the Hill subtitulada y original
Esta temporada Nº 13 estuvo protagonizada por Mike Judge, Kathy Najimy, Pamela Segall y Brittany Murphy.
Mike Judge TV/Cine
Kathy Najimy TV/Cine
Pamela Segall TV/Cine
Brittany Murphy TV/Cine
Capítulos de King of the Hill, Temporada 13 Online
La 13º temporada online de King of the Hill (King of the Hill) cuenta con 24 capítulos completos originales. Se filmaron múltiples temporadas de King of the Hill, te invitamos a disfrutarlos en video calidad Full HD desde tu TV. Generalmente los capítulos que se estrenan en Estados Unidos o en el país de origen de la serie no se emiten online simultáneamente en el resto del mundo, son traducidos o subtitulados al español latino tiempo después.