TÍTULO ORIGINAL
FICHA DE SERIE VISTA 22.331
Capítulos HD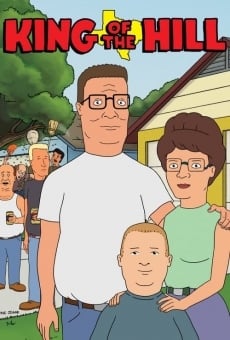 1997 ( US ) · Inglés · Comedia · 30 minutos, capítulos completos de la serie
SINOPSIS - ¿De qué trata esta serie de televisión?
King of the Hill Online - La historia de Hank Hill, su familia y el vecindario en el que vive, el suburbio de Arlen, Texas. Trabajador, devoto a su familia y orgullos de ser de Texas, Hank es un gerente asistente de Strickland Propane. Siempre tiene sentido común y se ve como la voz de la conciencia y la razón en un mundo de vendedores incompetentes, burócratas mediocres y liberales bienintencionados. La serie King of the Hill fue creada por Greg Daniels y Mike Judge, y su estreno en televisión en idioma original se produjo en el año 1997 (primera temporada). Los capítulos de King of the Hill así también como los episodios estreno se emiten gratis por televisión por cable con audio original en inglés, subtitulado y doblado al español (Latinoamérica) en diferentes horarios. Título alternativo: Los reyes de la colina (Argentina), El rey de la colina (España), O Rei do Pedaço (Brasil).
ELENCO King of the Hill
Actores/Actrices protagonistas: Mike Judge, Kathy Najimy, Pamela Segall y Brittany Murphy.
| | |
| --- | --- |
| GÉNERO DE LA SERIE | PAÍS DE ORIGEN DE LA SERIE COMPLETA |
| Comedia en inglés | Estados Unidos |
| | |
| --- | --- |
| TRANSMITE EN TV / ONLINE | DURACIÓN DE LOS CAPÍTULOS COMPLETOS |
| | 30 min cada capítulo completo |
Temporadas y capítulos
GUIÓN
Serie escrita por Greg Daniels, Mike Judge, Jim Dauterive, Alan R. Cohen, Alan Freedland, Kit Boss, Paul Lieberstein, Jonathan Aibel, Glenn Berger, Norm Hiscock, Garland Testa, Etan Cohen, Johnny Hardwick, John Altschuler, Dave Krinsky, Alex Gregory, Peter Huyck, Tony Gama-Lobo, Rebecca May y Dan McGrath.
PRODUCTORES
Mike Judge, Joseph A. Boucher, Greg Daniels, Norm Hiscock, John Altschuler, Dave Krinsky, Jonathan Aibel, Sivert Glarum, Malisa Caroselli, Jon Vitti, Jim Dauterive, Kenny Micka, David Zuckerman, Michael Jamin, Paul Lieberstein, Brent Forrester, Robert Parigi, Howard Klein, Michael Rotenberg y Mark McJimsey.
MÚSICA ORIGINAL
Compuesta por Roger Neill, Greg Edmonson, John O'Connor, John Frizzell, Lance Rubin y Jeffrey Baxter.
CINEMATOGRAFÍA / FOTOGRAFÍA
Responsabilidad de Steve Ingram.
ESTUDIOS Y PRODUCCIONES ASOCIADAS
Esta serie fue producida / financiada por Deedle-Dee Productions, Judgmental Films, 3 Art Entertainment, 20th Century Fox Television, Film Roman Productions y Judgemental Films Inc..
DISTRIBUIDORAS DE ESTA SERIE en idioma original
Distribuyeron comercialmente esta TV serie empresas como Fox Film Corporation, Fox Network, FX Network, TV6, 20th Century Fox Home Entertainment Japan, 20th Century Fox Television, CanWest Global Communications, FX, Net5 y Twentieth Century Fox Home Entertainment.
Capítulos de King of the Hill (1997)
Hay 13 temporadas con 258 capítulos completos de "King of the Hill" para ver por FX, acumulando una duración total de la serie completa de 7.740 minutos de video HD (calidad DVD) desde su primera temporada. Ten presente que generalmente los capítulos que se estrenan en Estados Unidos no se emiten on line simultáneamente en el resto del mundo, son traducidos desde el inglés o subtitulados al español latino varias semanas después.
Ficha de la serie de TV en
IMDb
con información adicional.