TÍTULO ORIGINAL
FICHA DE SERIE VISTA 6.192
Capítulos HD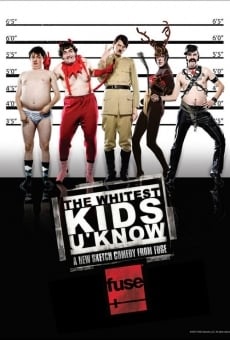 2007 ( US ) · Inglés · Comedia · 15 minutos, capítulos completos de la serie
SINOPSIS - ¿De qué trata esta serie de televisión?
The Whitest Kids U´Know Online - La primera canción de rap sobre fumar marihuana con dinosaurios, la performance de un extraño stripper que ni Youtube se anima a pasar sin censurar, un musical en que John F. Kennedy y su asesino cantan abrazados por un mundo mejor, chistes sexuales, homófobos, racistas, escatológicos...Con la libertad que da la estructura en sketches. La serie The Whitest Kids U´Know fue creada por Sam Brown, Zach Cregger, Trevor Moore, Darren Trumeter y Timmy Williams, y su estreno en televisión en idioma original se produjo en el año 2007 (primera temporada). Los capítulos de The Whitest Kids U´Know así también como los episodios estreno se emiten gratis por televisión por cable con audio original en inglés, subtitulado y doblado al español (Latinoamérica) en diferentes horarios.
ELENCO The Whitest Kids U´Know
Actores/Actrices protagonistas: Trevor Moore, Sam Brown, Zach Cregger, Darren Trumeter, Timmy Williams, Bobby Lundon, Kate Comer, Josh Fadem, Dave Dyshuk y Jim Biederman.
| | |
| --- | --- |
| GÉNERO DE LA SERIE | PAÍS DE ORIGEN DE LA SERIE COMPLETA |
| Comedia en inglés | Estados Unidos |
| | |
| --- | --- |
| TRANSMITE EN TV / ONLINE | DURACIÓN DE LOS CAPÍTULOS COMPLETOS |
| | 15 min cada capítulo completo |
Temporadas y capítulos
GUIÓN
Serie escrita por Darren Trumeter, Timmy Williams, Pete Holmes, Sam Brown, Trevor Moore, Jim Biederman y Zach Cregger.
PRODUCTORES
Zach Cregger, Steve Marcarelli, Tobie Haggerty, Debbie DeMontreux, Vincent Cirrincione, Jim Biederman, Marla Ratner, Trevor Moore, Jennifer Caserta y Bianca Biscano.
MÚSICA ORIGINAL
Compuesta por Guy Erez.
CINEMATOGRAFÍA / FOTOGRAFÍA
Responsabilidad de Ron Egozi, Jody Lee Lipes y Michael Simmonds.
ESTUDIOS Y PRODUCCIONES ASOCIADAS
Esta serie fue producida / financiada por Whitest Kids Business Company International, JimCo y Good Shepard Productions.
DISTRIBUIDORAS DE ESTA SERIE en idioma original
Distribuyeron comercialmente esta TV serie empresas como Fuse, Entertainment One y Independent Film Channel (IFC).
Capítulos de The Whitest Kids U´Know (2007)
Hay 5 temporadas con 60 capítulos completos de "The Whitest Kids U´Know" para ver por I.Sat, acumulando una duración total de la serie completa de 900 minutos de video HD (calidad DVD) desde su primera temporada. Ten presente que generalmente los capítulos que se estrenan en Estados Unidos no se emiten on line simultáneamente en el resto del mundo, son traducidos desde el inglés o subtitulados al español latino varias semanas después.
Ficha de la serie de TV en
IMDb
con información adicional.