CAPÍTULOS
FICHA DE CAPÍTULOS VISTA 4.127
Temporada 5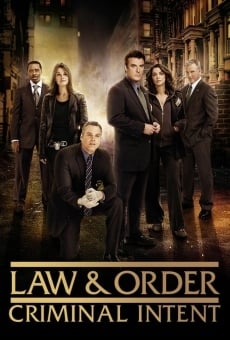 | | |
| --- | --- |
| Tipo | Serie de TV episodios |
| Origen | US |
| Idioma original | Inglés |
| Producida | 2001 |
| Género | Policial |
| Duración | 45 min cada episodio |
En nuestra guía de series hay disponibles un total de 10 temporadas completas de Law and Order: Criminal Intent. Pueden existir discrepancias con las temporadas emitidas en televisión (TV Seasons).
Consulta la lista de temporadas y episodios en IMDb para acceder a información actualizada.
Law and Order: Criminal Intent - 5º Temporada en español
Law and Order: Criminal Intent Temporada 5 Online - Goren y Eames deben descubrir la trama detras de un misterioso hombre que vive una doble vida, le dice a su familia que es economista de las Naciones Unidos. A medida que su mundo se deshace, el asesinato parece ser su única salida. Te invitamos a ver la ficha de esta serie con más información sobre la producción y los actores.
REPARTO DE LA TEMPORADA 5 Law and Order: Criminal Intent subtitulada y original
Esta temporada Nº 5 estuvo protagonizada por Vincent D'Onofrio, Kathryn Erbe, Jamey Sheridan, Courtney B. Vance, Leslie Hendrix, Eric Bogosian, Chris Noth, Jeff Goldblum, Julianne Nicholson, Saffron Burrows, Mary Elizabeth Mastrantonio, Annabella Sciorra, Traci Godfrey y Paula Rittie.
Vincent D'Onofrio TV/Cine
Kathryn Erbe TV/Cine
Jamey Sheridan TV/Cine
Courtney B. Vance TV/Cine
Leslie Hendrix TV/Cine
Eric Bogosian TV/Cine
Chris Noth TV/Cine
Jeff Goldblum TV/Cine
Julianne Nicholson TV/Cine
Saffron Burrows TV/Cine
Mary Elizabeth Mastrantonio TV/Cine
Annabella Sciorra TV/Cine
Traci Godfrey TV/Cine
Paula Rittie TV/Cine
Capítulos de Law and Order: Criminal Intent, Temporada 5 Online
La 5º temporada online de Law and Order: Criminal Intent (Law and Order: Criminal Intent) cuenta con 22 capítulos completos originales. Se filmaron múltiples temporadas de Law and Order: Criminal Intent, te invitamos a disfrutarlos en video calidad Full HD desde tu TV. Generalmente los capítulos que se estrenan en Estados Unidos o en el país de origen de la serie no se emiten online simultáneamente en el resto del mundo, son traducidos o subtitulados al español latino tiempo después.