CAPÍTULOS
FICHA DE CAPÍTULOS VISTA 9.580
Temporada 5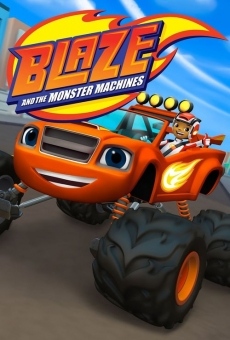 | | |
| --- | --- |
| Tipo | Serie de TV episodios |
| Origen | US |
| Idioma original | Inglés |
| Producida | 2014 |
| Género | Infantil |
| Duración | 45 min cada episodio |
En nuestra guía de series hay disponibles un total de 7 temporadas completas de Blaze and the Monster Machines. Pueden existir discrepancias con las temporadas emitidas en televisión (TV Seasons).
Consulta la lista de temporadas y episodios en IMDb para acceder a información actualizada.
Blaze and the Monster Machines - 5º Temporada en español
Blaze and the Monster Machines Temporada 5 Online - La abuela de Crusher viene de visita para verlo a él, y a Blaze, competir en el Domo Monster. Crusher intenta hacer trampa usando unos esquís cohete, pero su plan fracasa, y sale disparado de la pista de carrera por toda Ciudad Te invitamos a ver la ficha de esta serie con más información sobre la producción y los actores.
REPARTO DE LA TEMPORADA 5 Blaze and the Monster Machines subtitulada y original
Esta temporada Nº 5 estuvo protagonizada por Nolan North, Kevin Michael Richardson, Nat Faxon, Dusan Brown, Dee Bradley Baker, Caleel Harris, Jacquez Swanigan, Kate Higgins, Angelina Wahler, Sunil Malhotra, Alexander Polinsky y Michael Martines.
Nolan North TV/Cine
Kevin Michael Richardson TV/Cine
Nat Faxon TV/Cine
Dusan Brown TV/Cine
Dee Bradley Baker TV/Cine
Caleel Harris TV/Cine
Jacquez Swanigan TV/Cine
Kate Higgins TV/Cine
Angelina Wahler TV/Cine
Sunil Malhotra TV/Cine
Alexander Polinsky TV/Cine
Michael Martines TV/Cine
Capítulos de Blaze and the Monster Machines, Temporada 5 Online
La 5º temporada online de Blaze and the Monster Machines (Blaze and the Monster Machines) cuenta con 22 capítulos completos originales. Se filmaron múltiples temporadas de Blaze and the Monster Machines, te invitamos a disfrutarlos en video calidad Full HD desde tu TV. Generalmente los capítulos que se estrenan en Estados Unidos o en el país de origen de la serie no se emiten online simultáneamente en el resto del mundo, son traducidos o subtitulados al español latino tiempo después.