CAPÍTULOS
FICHA DE CAPÍTULOS VISTA 14.745
Temporada 3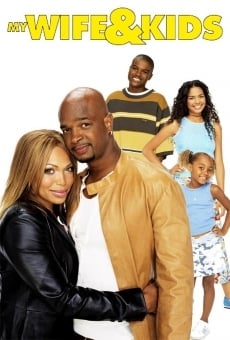 | | |
| --- | --- |
| Tipo | Serie de TV episodios |
| Origen | US |
| Idioma original | Inglés |
| Producida | 2001 |
| Género | Comedia |
| Duración | 45 min cada episodio |
En nuestra guía de series hay disponibles un total de 5 temporadas completas de My Wife and Kids. Pueden existir discrepancias con las temporadas emitidas en televisión (TV Seasons).
Consulta la lista de temporadas y episodios en IMDb para acceder a información actualizada.
My Wife and Kids - 3º Temporada en español
My Wife and Kids Temporada 3 Online - Es la noche en familia y los Kyle juegan a "¿cuánto sabes?", donde cada uno le escribe preguntas a su pareja, que debería saber la respuesta. Los resultados van de mal en peor y las parejas ven que quizá no se conocen tan bien como creían. Te invitamos a ver la ficha de esta serie con más información sobre la producción y los actores.
REPARTO DE LA TEMPORADA 3 My Wife and Kids subtitulada y original
Esta temporada Nº 3 estuvo protagonizada por Damon Wayans, Tisha Campbell, Parker Mckenna y George Gore Ii.
Damon Wayans TV/Cine
Tisha Campbell TV/Cine
Parker Mckenna TV/Cine
George Gore Ii TV/Cine
Capítulos de My Wife and Kids, Temporada 3 Online
La 3º temporada online de My Wife and Kids (My Wife and Kids) cuenta con 27 capítulos completos originales. Se filmaron múltiples temporadas de My Wife and Kids, te invitamos a disfrutarlos en video calidad Full HD desde tu TV. Generalmente los capítulos que se estrenan en Estados Unidos o en el país de origen de la serie no se emiten online simultáneamente en el resto del mundo, son traducidos o subtitulados al español latino tiempo después.