CAPÍTULOS
FICHA DE CAPÍTULOS VISTA 7.597
Temporada 3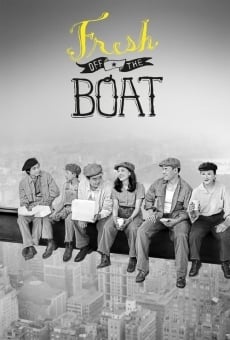 | | |
| --- | --- |
| Tipo | Serie de TV episodios |
| Origen | US |
| Idioma original | Inglés |
| Producida | 2015 |
| Género | Comedia |
| Duración | 45 min cada episodio |
En nuestra guía de series hay disponibles un total de 6 temporadas completas de Fresh Off the Boat. Pueden existir discrepancias con las temporadas emitidas en televisión (TV Seasons).
Consulta la lista de temporadas y episodios en IMDb para acceder a información actualizada.
Fresh Off the Boat - 3º Temporada en español
Fresh Off the Boat Temporada 3 Online - Honey está emocionada por asistir a una clase que alienta a las madres a escuchar a sus bebés, pero su madre, Anne, se burla de la idea. Honey busca apoyo en Jessica, pero ella no la respalda. Louis y Marvin disfrutan de un crucero gratuito que ganaron, pero su viaje pronto se convierte en una escapada al sur. En Orlando, los amigos de Eddie desconfían de su nuevo flechazo. Te invitamos a ver la ficha de esta serie con más información sobre la producción y los actores.
REPARTO DE LA TEMPORADA 3 Fresh Off the Boat subtitulada y original
Esta temporada Nº 3 estuvo protagonizada por Ian Chen, Forrest Wheeler, Constance Wu, Randall Park, Hudson Yang, Lucille Soong, Chelsey Crisp, Trevor Larcom, Evan Hannemann, Prophet Bolden, Paul Scheer, Ray Wise, Rachel Cannon, Jillian Armenante, Stacey Scowley, Luna Blaise, Isabella Alexander, David Goldman, Eddie Huang, Noel Gugliemi y Bill Purple.
Ian Chen TV/Cine
Forrest Wheeler TV/Cine
Constance Wu TV/Cine
Randall Park TV/Cine
Hudson Yang TV/Cine
Lucille Soong TV/Cine
Chelsey Crisp TV/Cine
Trevor Larcom TV/Cine
Evan Hannemann TV/Cine
Prophet Bolden TV/Cine
Paul Scheer TV/Cine
Ray Wise TV/Cine
Rachel Cannon TV/Cine
Jillian Armenante TV/Cine
Stacey Scowley TV/Cine
Luna Blaise TV/Cine
Isabella Alexander TV/Cine
David Goldman TV/Cine
Eddie Huang TV/Cine
Noel Gugliemi TV/Cine
Bill Purple TV/Cine
Capítulos de Fresh Off the Boat, Temporada 3 Online
La 3º temporada online de Fresh Off the Boat (Fresh Off the Boat) cuenta con 23 capítulos completos originales. Se filmaron múltiples temporadas de Fresh Off the Boat, te invitamos a disfrutarlos en video calidad Full HD desde tu TV. Generalmente los capítulos que se estrenan en Estados Unidos o en el país de origen de la serie no se emiten online simultáneamente en el resto del mundo, son traducidos o subtitulados al español latino tiempo después.