CAPÍTULOS
FICHA DE CAPÍTULOS VISTA 32.950
Temporada 2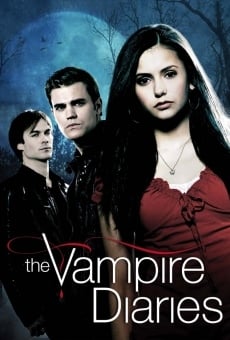 | | |
| --- | --- |
| Tipo | Serie de TV episodios |
| Origen | US |
| Idioma original | Inglés |
| Producida | 2009 |
| Género | Drama, Romántica, Fantasía, Terror, Thriller |
| Duración | 43 min cada episodio |
En nuestra guía de series hay disponibles un total de 8 temporadas completas de The Vampire Diaries. Pueden existir discrepancias con las temporadas emitidas en televisión (TV Seasons).
Consulta la lista de temporadas y episodios en IMDb para acceder a información actualizada.
The Vampire Diaries - 2º Temporada en español
The Vampire Diaries Temporada 2 Online - Tras la trágica muerte de sus padres, Elena hace lo mejor que puede para cuidar a su atormentado hermano menor, Jeremy, y salvar lo que le queda de familia. En su primer día de escuela conoce al misterioso nuevo chico del colegio, Stefan. Ella no sabe es que Stefan es un vampiro que constantemente resiste su necesidad de probar sangre. Mientras su relación se fortalece, el peligroso hermano mayor de Stefan, aparece para crear caos en el pueblo de Mystic Falls y reclama a Elena para sí. Te invitamos a ver la ficha de esta serie con más información sobre la producción y los actores.
REPARTO DE LA TEMPORADA 2 The Vampire Diaries subtitulada y original
Esta temporada Nº 2 estuvo protagonizada por Paul Wesley, Ian Somerhalder, Kat Graham, Candice King, Zach Roerig, Michael Trevino, Nina Dobrev, Steven R. McQueen, Matthew Davis y Michael Malarkey.
Paul Wesley TV/Cine
Ian Somerhalder TV/Cine
Kat Graham TV/Cine
Candice King TV/Cine
Zach Roerig TV/Cine
Michael Trevino TV/Cine
Nina Dobrev TV/Cine
Steven R. McQueen TV/Cine
Matthew Davis TV/Cine
Michael Malarkey TV/Cine
Capítulos de The Vampire Diaries, Temporada 2 Online
La 2º temporada online de The Vampire Diaries (The Vampire Diaries) cuenta con 22 capítulos completos originales. Se filmaron múltiples temporadas de The Vampire Diaries, te invitamos a disfrutarlos en video calidad Full HD desde tu TV. Generalmente los capítulos que se estrenan en Estados Unidos o en el país de origen de la serie no se emiten online simultáneamente en el resto del mundo, son traducidos o subtitulados al español latino tiempo después.