CAPÍTULOS
FICHA DE CAPÍTULOS VISTA 699
Temporada 2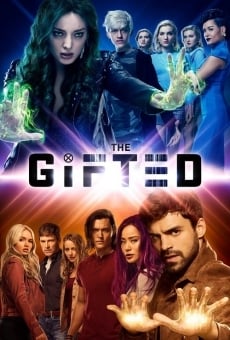 | | |
| --- | --- |
| Tipo | Serie de TV episodios |
| Origen | US |
| Idioma original | Inglés |
| Producida | 2017 |
| Género | Ciencia ficción |
| Duración | 45 min cada episodio |
En nuestra guía de series hay disponibles un total de 2 temporadas completas de The Gifted. Pueden existir discrepancias con las temporadas emitidas en televisión (TV Seasons).
The Gifted - 2º Temporada en español
The Gifted Temporada 2 Online - Situada en el universo de X-Men, esta es la historia de una pareja suburbana cuya vida es sacudida al descubrir que sus hijos adolescentes poseen poderes mutantes. La familia buscará la ayuda de una red clandestina de mutantes, luchando para sobrevivir. Te invitamos a ver la ficha de esta serie con más información sobre la producción y los actores.
REPARTO DE LA TEMPORADA 2 The Gifted subtitulada y original
Esta temporada Nº 2 estuvo protagonizada por Natalie Alyn Lind, Percy Hynes White, Stephen Moyer, Amy Acker, Emma Dumont, Hayley Lovitt, Cooper Roth, David Alessi, Dayna Beilenson, Timothy Carr, Ryan Czerwonko, Courtney Dietz, Jacob Evans, Jalana Kasambira, Melissa LeEllen, Aaron Quick, Danny Ramirez, James Sterling, Darion Costley, Michael James Anders y Len Wiseman.
Natalie Alyn Lind TV/Cine
Percy Hynes White TV/Cine
Stephen Moyer TV/Cine
Amy Acker TV/Cine
Emma Dumont TV/Cine
Hayley Lovitt TV/Cine
Cooper Roth TV/Cine
David Alessi TV/Cine
Dayna Beilenson TV/Cine
Timothy Carr TV/Cine
Ryan Czerwonko TV/Cine
Courtney Dietz TV/Cine
Jacob Evans TV/Cine
Jalana Kasambira TV/Cine
Melissa LeEllen TV/Cine
Aaron Quick TV/Cine
Danny Ramirez TV/Cine
James Sterling TV/Cine
Darion Costley TV/Cine
Michael James Anders TV/Cine
Len Wiseman TV/Cine
Capítulos de The Gifted, Temporada 2 Online
La 2º temporada online de The Gifted (The Gifted) cuenta con 16 capítulos completos originales. Se filmaron múltiples temporadas de The Gifted, te invitamos a disfrutarlos en video calidad Full HD desde tu TV. Generalmente los capítulos que se estrenan en Estados Unidos o en el país de origen de la serie no se emiten online simultáneamente en el resto del mundo, son traducidos o subtitulados al español latino tiempo después.