CAPÍTULOS
FICHA DE CAPÍTULOS VISTA 9.073
Temporada 2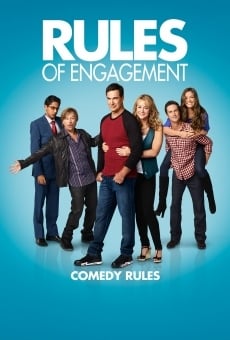 | | |
| --- | --- |
| Tipo | Serie de TV episodios |
| Origen | US |
| Idioma original | Inglés |
| Producida | 2007 |
| Género | Comedia |
| Duración | 60 min cada episodio |
En nuestra guía de series hay disponibles un total de 7 temporadas completas de Rules of Engagement. Pueden existir discrepancias con las temporadas emitidas en televisión (TV Seasons).
Rules of Engagement - 2º Temporada en español
Rules of Engagement Temporada 2 Online - Las vivencias y aventuras de un grupo de amigos que se encuentran en diferentes facetas de sus vidas: una pareja recién casada, un soltero empedernido que sale con alguien diferente todas las semanas, y una pareja casada desde hace unos años. Te invitamos a ver la ficha de esta serie con más información sobre la producción y los actores.
REPARTO DE LA TEMPORADA 2 Rules of Engagement subtitulada y original
Esta temporada Nº 2 estuvo protagonizada por Oliver Hudson, Bianca Kajlich, Megyn Price, David Spade y Patrick Warburton.
Oliver Hudson TV/Cine
Bianca Kajlich TV/Cine
Megyn Price TV/Cine
David Spade TV/Cine
Patrick Warburton TV/Cine
Capítulos de Rules of Engagement, Temporada 2 Online
La 2º temporada online de Rules of Engagement (Rules of Engagement) cuenta con 15 capítulos completos originales. Se filmaron múltiples temporadas de Rules of Engagement, te invitamos a disfrutarlos en video calidad Full HD desde tu TV. Generalmente los capítulos que se estrenan en Estados Unidos o en el país de origen de la serie no se emiten online simultáneamente en el resto del mundo, son traducidos o subtitulados al español latino tiempo después.