CAPÍTULOS
FICHA DE CAPÍTULOS VISTA 5.857
Temporada 2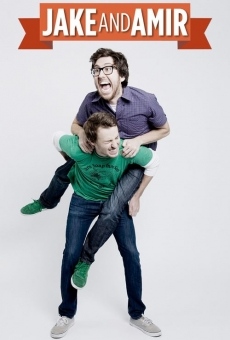 | | |
| --- | --- |
| Tipo | Serie de TV episodios |
| Origen | US |
| Idioma original | Inglés |
| Producida | 2007 |
| Género | Comedia, Cortometraje |
| Duración | 60 min cada episodio |
En nuestra guía de series hay disponibles un total de 11 temporadas completas de Jake and Amir. Pueden existir discrepancias con las temporadas emitidas en televisión (TV Seasons).
Consulta la lista de temporadas y episodios en IMDb para acceder a información actualizada.
Jake and Amir - 2º Temporada en español
Jake and Amir Temporada 2 Online - Seis novatos de la policía de Nueva York patrullan las calles del norte de Manhattan bajo la tutela de su oficial de entrenamiento. Cada uno de ellos tiene una historia única, una personalidad particular y un motivo propio y personal para unirse a la fuerza. Te invitamos a ver la ficha de esta serie con más información sobre la producción y los actores.
REPARTO DE LA TEMPORADA 2 Jake and Amir subtitulada y original
Esta temporada Nº 2 estuvo protagonizada por Jake Hurwitz, Amir Blumenfeld, Ben Schwartz, Brian Murphy, Pat Cassels, Sarah Schneider, Streeter Seidell, Paul Greenberg, Ty Chase y Anu Valia.
Jake Hurwitz TV/Cine
Amir Blumenfeld TV/Cine
Ben Schwartz TV/Cine
Brian Murphy TV/Cine
Pat Cassels TV/Cine
Sarah Schneider TV/Cine
Streeter Seidell TV/Cine
Paul Greenberg TV/Cine
Ty Chase TV/Cine
Anu Valia TV/Cine
Capítulos de Jake and Amir, Temporada 2 Online
La 2º temporada online de Jake and Amir (Jake and Amir) cuenta con 109 capítulos completos originales. Se filmaron múltiples temporadas de Jake and Amir, te invitamos a disfrutarlos en video calidad Full HD desde tu TV. Generalmente los capítulos que se estrenan en Estados Unidos o en el país de origen de la serie no se emiten online simultáneamente en el resto del mundo, son traducidos o subtitulados al español latino tiempo después.