CAPÍTULOS
FICHA DE CAPÍTULOS VISTA 3.119
Temporada 1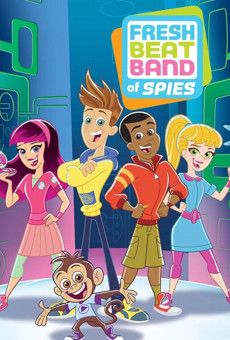 | | |
| --- | --- |
| Tipo | Serie de TV episodios |
| Origen | US |
| Idioma original | Inglés |
| Producida | 2015 |
| Género | Infantil |
| Duración | 45 min cada episodio |
En nuestra guía de series hay disponibles un total de 2 temporadas completas de Fresh Beat Band of Spies. Pueden existir discrepancias con las temporadas emitidas en televisión (TV Seasons).
Consulta la lista de temporadas y episodios en IMDb para acceder a información actualizada.
Fresh Beat Band of Spies - 1º Temporada en español
Fresh Beat Band of Spies Temporada 1 Online - Cuando un misterioso ladrón comienza a robar las joyas de muchas personas, los chicos descubren que el temido Capitán Argh está tratando de robar una famosa esmeralda, y al lindo gatito que la usa. Ahora los chicos deben persegu Te invitamos a ver la ficha de esta serie con más información sobre la producción y los actores.
REPARTO DE LA TEMPORADA 1 Fresh Beat Band of Spies subtitulada y original
Esta temporada Nº 1 estuvo protagonizada por Keith Silverstein, Jon Beavers y Yvette Gonzalez-Nacer.
Keith Silverstein TV/Cine
Jon Beavers TV/Cine
Yvette Gonzalez-Nacer TV/Cine
Capítulos de Fresh Beat Band of Spies, Temporada 1 Online
La 1º temporada online de Fresh Beat Band of Spies (Fresh Beat Band of Spies) cuenta con 20 capítulos completos originales. Se filmaron múltiples temporadas de Fresh Beat Band of Spies, te invitamos a disfrutarlos en video calidad Full HD desde tu TV. Generalmente los capítulos que se estrenan en Estados Unidos o en el país de origen de la serie no se emiten online simultáneamente en el resto del mundo, son traducidos o subtitulados al español latino tiempo después.