TÍTULO ORIGINAL
FICHA DE SERIE VISTA 12.146
Capítulos HD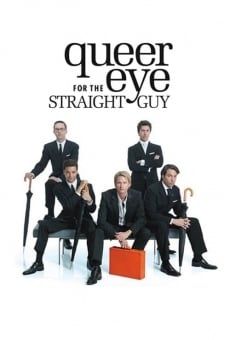 2003 ( US ) · Inglés · Comedia, Documental · 60 minutos, capítulos completos de la serie
SINOPSIS - ¿De qué trata esta serie de televisión?
Queer Eye for the Straight Guy Online - Cinco gays especialistas en moda, comida y vinos, cultura, imagen y diseño de interiores, van al rescate de hombres serios sin sentido de la moda. Al comienzo de cada episodio, puede verse el desorden en la casa del hombre a rescatar, situación que cambiará cuando los cinco gays le ayuden a resolver sus problemas. La serie Queer Eye for the Straight Guy fue creada por David Collins, y su estreno en televisión en idioma original se produjo en el año 2003 (primera temporada). Los capítulos de Queer Eye for the Straight Guy así también como los episodios estreno se emiten gratis por televisión por cable con audio original en inglés, subtitulado y doblado al español (Latinoamérica) en diferentes horarios. Título alternativo: Operación G (España).
ELENCO Queer Eye for the Straight Guy
Actores/Actrices protagonistas: Kyan Douglas, Ted Allen, Jai Rodriguez, Thom Filicia y Carson Kressley.
| | |
| --- | --- |
| GÉNERO DE LA SERIE | PAÍS DE ORIGEN DE LA SERIE COMPLETA |
| Comedia, Documental en inglés | Estados Unidos |
| | |
| --- | --- |
| TRANSMITE EN TV / ONLINE | DURACIÓN DE LOS CAPÍTULOS COMPLETOS |
| | 60 min cada capítulo completo |
Temporadas y capítulos
GUIÓN
Serie escrita por Bob Kirsh y David Collins.
PRODUCTORES
Michael Williams, David Metzler, David Collins, Rob Eric, Brad Carpenter, Larissa Matsson, Amy Hussey, Justin Panzanaro, Cara Karp, Dave Snyder, Joey Allen, Vivian Sorenson, Rob Schwarze, Scott Robbe, Andrew D. Stocker, Dorothy Aufiero, Brendon Carter, Jill Danton, Jeff Hasler y Amy Introcaso.
MÚSICA ORIGINAL
Compuesta por Sebastian Arocha Morton, Gary Meister y Brad Chiet.
CINEMATOGRAFÍA / FOTOGRAFÍA
Responsabilidad de Michael Pearlman, Sarah Cawley y James Jansen.
ESTUDIOS Y PRODUCCIONES ASOCIADAS
Esta serie fue producida / financiada por Bravo Original Production y Scout Productions.
DISTRIBUIDORAS DE ESTA SERIE en idioma original
Distribuyeron comercialmente esta TV serie empresas como Bravo Cable, Bravo Networks, National Broadcasting Company (NBC), Bravo Network Canada, Channel 4 Television Corporation, Flextech Television Limited, Fox, LivingTV, TIMM y TV3.
Capítulos de Queer Eye for the Straight Guy (2003)
Hay 5 temporadas con 100 capítulos completos de "Queer Eye for the Straight Guy" para ver por FOX Life, acumulando una duración total de la serie completa de 6.000 minutos de video HD (calidad DVD) desde su primera temporada. Ten presente que generalmente los capítulos que se estrenan en Estados Unidos no se emiten on line simultáneamente en el resto del mundo, son traducidos desde el inglés o subtitulados al español latino varias semanas después.
Ficha de la serie de TV en
IMDb
con información adicional.