TÍTULO ORIGINAL
FICHA DE SERIE VISTA 7.931
Capítulos HD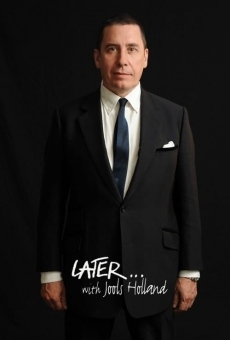 1992 ( GB ) · Inglés · Espectáculo · 45 minutos, capítulos completos de la serie
SINOPSIS - ¿De qué trata esta serie de televisión?
Later... with Jools Holland Online - La banda de cuatro integrantes de Liam Gallagher, Beady Eye, hace su debut en el show, con canciones de sus álbumes Different Gear y Still Speeding. Acompañarán a Jool el ganador del Mercury Prize en 2008: Elbow, quien interpreta tracks de su ábum Build a Rocket Boys! También en escena, la finalista del concurso de la BBC Sound 2011, Anna Calvi, el cantante Americano de soul Raphael Saadiq y el guitarrissta sueco Kristian Matsson - alias el hombre más alto de la tierra. La serie Later... with Jools Holland fue creada por Janet Fraser-crook, y su estreno en televisión en idioma original se produjo en el año 1992 (primera temporada). Los capítulos de Later... with Jools Holland así también como los episodios estreno se emiten gratis por televisión por cable con audio original en inglés, subtitulado y doblado al español (Latinoamérica) en diferentes horarios.
ELENCO Later... with Jools Holland
Actores/Actrices protagonistas: Jools Holland.
| | |
| --- | --- |
| GÉNERO DE LA SERIE | PAÍS DE ORIGEN DE LA SERIE COMPLETA |
| Espectáculo en inglés | Reino Unido |
| | |
| --- | --- |
| TRANSMITE EN TV / ONLINE | DURACIÓN DE LOS CAPÍTULOS COMPLETOS |
| | 45 min cada capítulo completo |
Temporadas y capítulos
PRODUCTORES
Stephanie McWhinnie, Mark Cooper, Samantha Lockett, Jools Holland, Donna Wolfe, Alison Howe, Sal LoCurto y Dana Perri.
CINEMATOGRAFÍA / FOTOGRAFÍA
Responsabilidad de Chris Rigby.
ESTUDIOS Y PRODUCCIONES ASOCIADAS
Esta serie fue producida / financiada por British Broadcasting Corporation (BBC).
DISTRIBUIDORAS DE ESTA SERIE en idioma original
Distribuyeron comercialmente esta TV serie empresas como DoQ, NTR, BBC Two, 3DD Entertainment, ZDFtheaterkanal, TNU - Canal 5 y Nederlandse Programma Stichting (NPS).
Capítulos de Later... with Jools Holland (1992)
Hay 49 temporadas con 289 capítulos completos de "Later... with Jools Holland" para ver por Film&Arts, acumulando una duración total de la serie completa de 13.005 minutos de video HD (calidad DVD) desde su primera temporada. Ten presente que generalmente los capítulos que se estrenan en Estados Unidos no se emiten on line simultáneamente en el resto del mundo, son traducidos desde el inglés o subtitulados al español latino varias semanas después.
Ficha de la serie de TV en
IMDb
con información adicional.