TÍTULO ORIGINAL
FICHA DE SERIE VISTA 9.421
Capítulos HD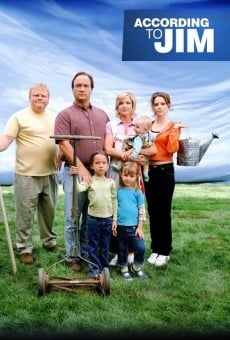 2001 ( US ) · Inglés · Comedia · 30 minutos, capítulos completos de la serie
SINOPSIS - ¿De qué trata esta serie de televisión?
According to Jim Online - La historia de un hombre sencillo y poco atractivo, casado con una mujer hermosa y sofisticada, ambos bendecidos con tres adorables hijos. Jim mantiene a su familia trabajando como contratista en una empresa de diseño que dirige junto a su cuñado. Además, para alimentar su otra pasión, la música, pasa todo su tiempo libre tocando blues con un grupo de seis amigos que ensayan en su garage. La serie According to Jim fue creada por Tracy Newman y Jonathan Stark, y su estreno en televisión en idioma original se produjo en el año 2001 (primera temporada). Los capítulos de According to Jim así también como los episodios estreno se emiten gratis por televisión por cable con audio original en inglés, subtitulado y doblado al español (Latinoamérica) en diferentes horarios. Título alternativo: El mundo según Jim (España), O Jim é Assim (Brasil).
ELENCO According to Jim
Actores/Actrices protagonistas: James Belushi, Courtney Thorne-Smith, Kimberly Williams, Larry Joe Campbell y Taylor Atelian.
| | |
| --- | --- |
| GÉNERO DE LA SERIE | PAÍS DE ORIGEN DE LA SERIE COMPLETA |
| Comedia en inglés | Estados Unidos |
| | |
| --- | --- |
| TRANSMITE EN TV / ONLINE | DURACIÓN DE LOS CAPÍTULOS COMPLETOS |
| | 30 min cada capítulo completo |
Temporadas y capítulos
GUIÓN
Serie escrita por Tracy Newman, Jonathan Stark, David Feeney, John D. Beck, Ron Hart, Nastaran Dibai, Jeffrey B. Hodes, Sylvia Green, Christopher J. Nowak, Bob Nickman, Howard J. Morris, Harry Hannigan, Warren Bell, John Peaslee, Judd Pillot, Sung Suh, Tracy Gamble, Jana Hunter, Mitch Hunter y Daniel Egan.
PRODUCTORES
James Belushi, Suzanne Bukinik, Marc Gurvitz, Robert Heath, John D. Beck, Ron Hart, Trevor Kirschner, Jonathan Stark, David Feeney, Warren Bell, Bob Nickman, Nastaran Dibai, Jeffrey B. Hodes, Howard J. Morris, Chris Arrington, John Peaslee, Judd Pillot, Jesse J. Donnelly, Tracy Newman y Jana Hunter.
MÚSICA ORIGINAL
Compuesta por James Belushi, Glen Clark, Jonathan Wolff, Rich Ragsdale y Scott Clausen.
CINEMATOGRAFÍA / FOTOGRAFÍA
Responsabilidad de George Mooradian y Tony Askins.
ESTUDIOS Y PRODUCCIONES ASOCIADAS
Esta serie fue producida / financiada por Newman/Stark, Suzanne Bukinik Entertainment, Brad Grey Television y Touchstone Television.
DISTRIBUIDORAS DE ESTA SERIE en idioma original
Distribuyeron comercialmente esta TV serie empresas como American Broadcasting Company (ABC), Buena Vista Television, Canadian Television (CTV), Comedy Central, Disney-ABC Domestic Television, Lions Gate Films Home Entertainment, RTL Klub Televízió, SBS6, VT4 y Veronica.
Capítulos de According to Jim (2001)
Hay 8 temporadas con 182 capítulos completos de "According to Jim" para ver por Sony, acumulando una duración total de la serie completa de 5.460 minutos de video HD (calidad DVD) desde su primera temporada. Ten presente que generalmente los capítulos que se estrenan en Estados Unidos no se emiten on line simultáneamente en el resto del mundo, son traducidos desde el inglés o subtitulados al español latino varias semanas después.
Ficha de la serie de TV en
IMDb
con información adicional.